HIGH DEFINITION SECURITY CAMERAS SYSTEM STARTING FROM $699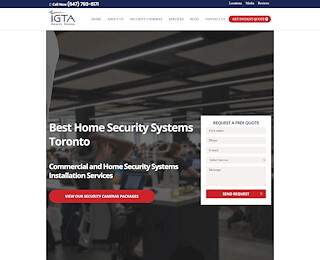 1000+ Happy Clients. Home Security Systems, alarms, detectors. All security  related services in Toronto GTA. With 10 years in the security business, you can trust us to protect your home, family, and business. We set ourselves apart with unwavering integrity and a strict code of ethics. Protecting property is a  human instinct – you've worked hard for what you have.  We're dedicated to providing you true security and peace of mind. When you know you're safe and secure, you can relax easily.
Home Security Systems
iGTA Security Systems
(647) 793-6171
2100 Steeles Ave W #104, Concord, ON L4K 1Z3, Canada
View Larger Map
We Specialize In:
wireless home security systems,best security,camera home,security reviews,rate home,diy home,do it yourself home,ge security,honeywell,security alarm systems,home monitoring,top home
We welcome your comments!